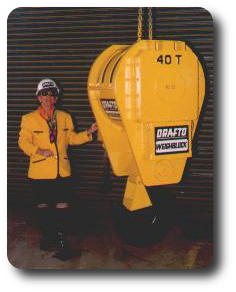 HOOK BLOCKS
Drafto Hook Blocks are designed and built to provide long, maintenance-free service under the most severe environmental and operating conditions.
We will build Hook Blocks to fit your crane in any capacity and in any sheave arrangement.
HOOK BLOCK FEATURES
Hardened Steel Sheaves on Tapered Roller Bearings.

Sheave Pin Nut Guard.

Heavy Fabricated Steel Sheave Guard.

Forged Steel Hook Beam.

Hardened Steel Bushings.

Heat Treated Forged Alloy Hook.

Choice of Safety Latches

ROTAHOOK
The "ROTAHOOK" is tough; with an ample design factor to withstand abuse and handle severe overloads. Heavy bumper plates prevent damage to the internal mechanism from rough treatment. A slip clutch protects the gearing from damage when the load hits an object in transit or while swinging. Forged steel sheaves have hardened rope grooves, or are heat treated to specification.
Special Features of the "Rotahook" drive unit are as follows:

Disconnect clutch on reducer to enable disengagement of hook drive for manual rotation in case of power failure.

Carburized and hardened bevel gearing.

Drive is protected by heavy duty springloaded disc slip clutches.

The complete drive unit is a modular design (unique to Drafto) and easily separable from the main housing. The upper half of the block does not need to be unreeved from the crane when changing the drive or hook.


Optional Equipment:
Motor Controls

Mechanical Limit Stops

Electrical Limit Stop

20 AMP Brushes and Collector Rings

125 AMP Brushes and Collector Rings(for Magnet)

Special Hook Latches

Polyethylene Bumper Pads
Rotahook with removable drive