CRANE WEIGHING MAKES GOOD SENSE !
Crane weighing has many advantages. Any items needing accurate weight readings can be weighed "on the fly" as they are moved by the crane, eliminating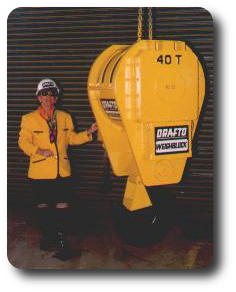 needless time and floor scale space. Drafto crane scales are not subject to damage from falling items nor do they collect debris the way floor scales can. This means very low maintenance. Repair, when needed, is simple.
Drafto designs and manufactures many types of crane weighing devices used in heavy duty applications. They include: weigh blocks, rotaweigh blocks, weigh beams, and upper sheave nest systems. Drafto also makes floor scales and custom devices and can add weighing to new or existing devices (i.e. "weighing coil lifters").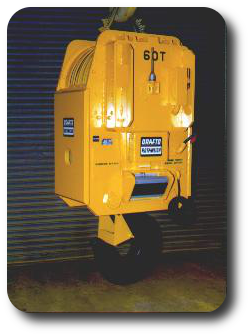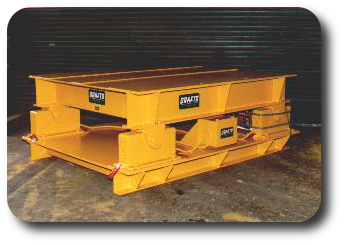 Drafto designs and manufactures many types of weighing devices. One device is the "Floor Scale". Although less popular than other weighing devices, they are well suited for certain applications.
INSTRUMENTATION
The Drafto"Delta/Sigma 2000", is our own state of the art weight indicator, designed and manufactured by Drafto.The package normally provided with crane scales is the "RF2000" radio link version with remote rf-link indicator. All setup, calibration, and programing are done at the remote indicator-no adjustments or switch setings are required on the block unit.This instrument can be custom programmed per your application

Delta/Sigma 2000 Features:

"RF" Linked for Crane Scale (eliminates signal cables).

A/D Conversion: 24 Bit Delta/Sigma.

AC Load Cell Excitation

Input Power: AC/DC 12-250 Volts.

Front panel calibration (including RF systems).

EEPROM Memory, storage of calibration and set up data, unlimited write cycles.

Integral numeric keypad for user input.

Time/Date, with automatic power backup.

Low power HCMOS, (low heat electronic components).

Mill duty switches with tactile and audible feedback.

Function keys for custom applications.

Bright green LED display (9 digits)

Rugged NEMA 12enclosure

Crane Scale System Options:

Continuous power supply, DC or AC.

Multiple location readouts.

Data Links, single or bi-directional.

Smart data management interface.

Standard and custom data I/O system.

Custom interfacing, RS 232/EIA 422,485.

Yield optimization through weight data for Hot Metal applications.

Heat shielding for hi-temp applications.

Remote displays.

Printers.

Bar code interfacing.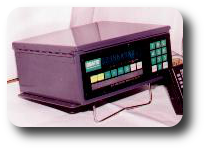 Weight indicator/ receiver
Scale transmitter unit: Includes microcontroller, A/D converter, and RF section