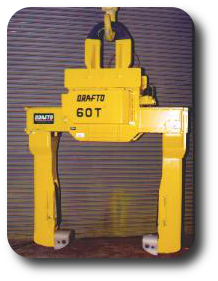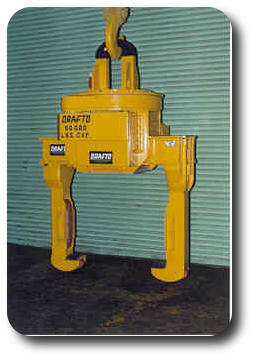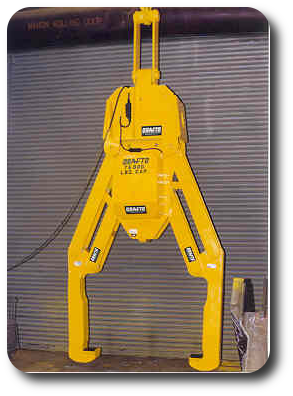 Drafto has been manufacturing various types of coil lifters for over 20 years. We have refined the design of both types (PG Lifters and RP Lifters) to be minimal downtime production tools and not maintenance headaches.
Lifters are manufactured in accordance with ANSI B30.20 Spec. for Below the Hook Lifting Devices and AISE Std. #6 for Steel Mill Cranes.

Proven steel mill duty, side mounted to allow for minimum headroom clearance.

Torque limiting clutch mounted sprocket on output shaft of reducer.

Drive unit completely enclosed with heavy duty hinged covers for easy accessibility.

Lifting arms are given special attention to reduce coil damage.

Rack and Pinion Lifter Arms travel on replaceable brass wear plates.

Equipment Options for Drafto coil lifters:
AC or DC power rotation

Weighing w/ onboard or remote display

"Coil Guard" edge protecton modules. (U.S. PATENT NO. 4,641,876)

Dual trip saddle plunger assemblies.

Auxiliary bolt-on protective saddles. (U.S. PATENT NO. 5,205,999)

Leading and trailing edge saddle rollers.

Coil edge protection trip plates/limit switches.

Coil ID sensing system (infrared).

Soft start motor controllers.

Collector rings for continuous rotation.

Mechanical rotational limit stop.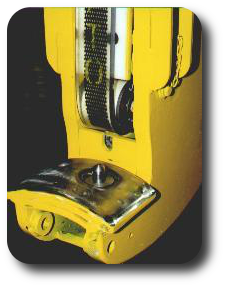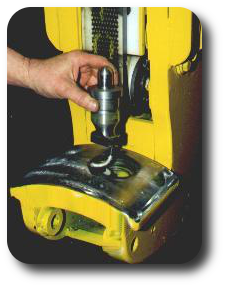 Edge protector belt, photo sensor, Installing saddle plunger -
& saddle plunger shown above snaps in place !
C-HOOKS
Drafto "C-Hooks" are designd and manufactured to AISE Specifications for Steel Mill Duty and Heavy Industry. Special C-Hooks are available for light duty applications.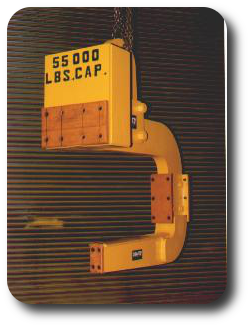 C-Hook Features:
Internal and external replaceable padding or liners.

Perfectly balanced.

Made from alloy steel.

Replaceable bails.

Single, double and triple handling.

Wide range of capacities.